World-Class Walkway Washing Services in Cumming Ga
Walkway Washing Services In Cumming GA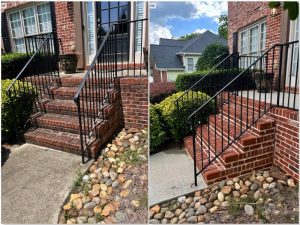 Have you noticed organic growth and ugly stains on the sidewalks and entry way to your home? Have you tried washing them yourself? Spending hours and energy cleaning them, only to find that the growth has returned a few months later. This can be frustrating knowing that time could have been better spent. We offer reliable walkway washing services in Cumming Ga to help. We can not only remove the growth but prevent it from returning so fast.
When you hire Jay Squared, we'll provide you with quality, long-lasting cleaning. We treat every surface with the correct solution. This eliminates organic growth at the source and repels growth for as long as possible. Combined with the use of our specialized equipment, we are able to deep clean your surfaces. As trained professionals, we combine our services with the highest level of care. The end result leaves them looking fresh, bright, and revitalized. 
I mention lichen on my
home page
. Driveways, walkways and other cementitious surfaces become inhabited by lichen. Starting as air-borne spores, it attaches itself to the cement. It then establishes a root system which makes it very difficult to clean. Without killing 'down to the root', quick regrowth is inevitable. Lichen doesn't feed off of the concrete, but rather the layer of dirt and dust that accumulate on it. This provides enough of a food source for lichen to survive. As it grows, it embeds its roots  into the porous concrete. This is what makes it difficult to remove without proper treatment. 
Whether it's concrete, brick, stone, or any other material, we can help. Be sure to request an estimate for walkway washing services on our
free estimate form
today!
Maintaining Your Home's Walkway Appearance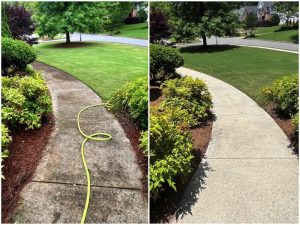 Jay Squared is industry leading offering walkway washing services in Cumming GA. and we take pride in providing complete exterior cleaning. for its customers in the area. Besides driveway washing, we also clean sidewalks, curbs and cement paths. We ensure that the surfaces around your property exterior are as clean as your interior.
Along with services for residential areas; we also service commercial properties. Our team uses the best practices in cleaning and maintenance keeping surfaces clean.
We also provide recommendations based on your needs for any of our services. This includes deck cleaning, house cleaning, fence cleaning, and more. During our first meeting, the goal is to understand your expectations to assess needs. By understanding your goals, we can get your project completed timely. By bundling services, we can help cut costs and keep your property ship-shape and in budget.
Everything Readily Available Just a Call or Text Away
Sidewalks, walkways and driveways usually interconnected. When cleaning one, but not the other, it is evident that only one surface is clean. We can work with you to bundle these surfaces together. This will not only save you money, but the surfaces will match. With family and friends at your house, making a good impression is important. Likewise with customers at your place of business. Why not pressure wash your driveway and sidewalk together and save time and money ?
It's well-known that regular cleaning of your property surfaces improves the appearance. This also translates to increased profitability for your business. Wendy Stokes discusses
6 benefits of exterior commercial cleaning for businesses
. She mentions not only appearance and profitability, but resale value.
Jay Squared offers high-quality walkway washing services in Cumming Ga. This helps keep your home or business looking clean and fresh year-round. Regular cleaning is an easy way to ensure your investment lasts for years to come. Preventing accidents, such as slips and falls, prevents unnecessary costs. It also showcases your property for guests whether they are customers or family. Barbara Theofilis
Homeowner
I highly recommend Jay Squared Enterprises! Jay responded promptly to my request for a quote to pressure wash my driveway, walkway, and sidewalk, and worked around our work schedule to get the job done because we wanted to be there while the washing was completed. Everything looks fantastic - the concrete is sparkling clean!