Pressure Washing in Buford Ga
Buford, Georgia, is a beautiful city situated in Gwinnett County, known for its picturesque landscapes and vibrant community. As a homeowner or business owner in Buford, it is essential to maintain the cleanliness and appearance of your property. One effective way to achieve this is through pressure washing. In this article, we will explore the benefits and importance of pressure washing, and how it can help enhance the overall appeal of your property.
The Power of Pressure Washing in Buford Ga
Pressure washing involves using highly pressurized water to remove dirt, grime, mold, mildew, and other unwanted substances from various surfaces. It is a versatile and highly effective method that can be used on a wide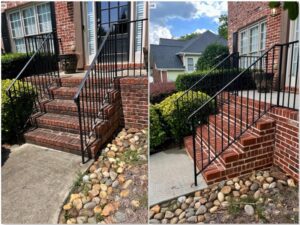 range of materials, including concrete, bricks, wood, vinyl, and metal. This process not only cleans the surface but also helps in maintaining its longevity.
Enhancing Curb Appeal 

One of the significant benefits of pressure washing is that it significantly enhances the curb appeal of your property. Over time, buildings, sidewalks, driveways, and other exterior surfaces accumulate dirt, stains, and pollutants that can make them look dull and unattractive. Pressure washing removes these unsightly substances, revealing a fresh and clean surface underneath, instantly improving the overall appearance of your property.
Protecting Your Investment

By regularly pressure washing your property, you can protect your investment. Dirt, algae, mold, and mildew can cause significant damage to your property's exterior surfaces if left untreated. These substances can deteriorate the materials, leading to costly repairs or replacements in the future. Pressure washing eliminates these harmful elements, preventing long-term damage and extending the lifespan of your property.
Health and Safety Benefits

In addition to its aesthetic advantages, pressure washing also offers health and safety benefits. Mold, mildew, and algae growth on exterior surfaces can pose health risks to you and your family. These substances can trigger allergies, respiratory problems, and other health issues. Pressure washing removes these potentially harmful elements, creating a cleaner and healthier environment for everyone.
Professional Pressure Washing Services 
 
While some homeowners may attempt to pressure wash their properties themselves, it is often best to seek professional assistance. Professional pressure washing companies, such as Jay Squared pressure washing, have the expertise, equipment, and knowledge to deliver optimal results without causing any damage to your property. They can efficiently handle both residential and commercial pressure washing projects, ensuring a thorough and effective clean.
Conclusion
Buford, GA, is a city that values cleanliness and a well-maintained appearance. Pressure washing is a valuable tool in achieving these goals. From enhancing curb appeal to protecting your investment and ensuring a healthier environment, pressure washing offers numerous benefits. Consider hiring a professional pressure washing company to transform your property and keep it looking its best for years to come. 
Please note that this article is not a substitute for professional advice. If you are unsure about pressure washing your property, consult with a local expert to determine the best course of action. Click here for a free estimate from Jay Squared Pressure Washing. We have the tools and experience to make a quick job out of getting your place clean and damage free.
External Resources:
Looking for local pressure washing companies in Buford? 
Consider contacting Jay Squared Pressure Washing. We've been in business for over 15 years serving Buford and surrounding areas and will work on any exterior cleaning projects you have! Click here for a quick no-hassle estimate for your project!
As a full service pressure washing company – we can help you with just about anything that lives outside and needs to be cleaned! Helping you with exterior cleaning projects including roofs, driveways, walkways, sidewalks, fences, decks and patios. We even offer patio furniture cleaning services to get rid of mold mildew and algae from those surfaces. 
The goal is to free up your time – spend your weekends relaxing and enjoying friends and family. If you need pressure washing in Buford, ga – look no further you won't be disappointed! See below for a quick sample of our work – many more images and articles at our home page here. Please check us out on Facebook and Instagram as well as our profile on Google! Steve Payne
Homeowner
Professional and responsive services. Pleasure to do business with. Robert Cline
Owner: DLP Construction
Jay washed my home, driveway, retaining wall as well as two decks and my patios and walkways. The results were great! I've asked Jay to call me after pollen season to help keep the property looking its best. Pamala Smith
Homeowner
Jay Squared pressure washed my driveway and walkways and soft cleaned my old privacy fence. Did an awesome job. Arrived on time and took great care to not disturb my birdhouses and plants. I had a strange area on my gate that did not come clean with the first treatment. He returned and tried something different and it cleaned up perfectly. Highly recommend his services!
Pressure Washing in Buford, GA Gallery of work - Coming Soon...