Affordable Patio Cleaning Services In Cumming GA
Has it been a while since you last had an exterior cleaning? It may be time to get rid of the dirt accumulation, remove some of the spider and cobwebs and give your space a fresh new look.
The appearance of your patio and walkways is key to showcasing your home and garden for your guests as well as your family to enjoy and appreciate.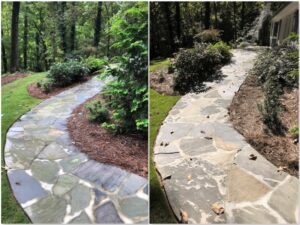 We also understand that these important living space areas require care and attention over time due to the buildup of dirt, algae, and weeds. At Jay Squared, we provide patio cleaning services in Cumming GA, through our state-of-the-art exterior cleaning systems that will renovate your patio and walkways.
Revitalize your patio, driveway, and driveways or deck with help from Jay Squared Exterior Washing Services. Whether you are thinking of updating or restoring an area of block paving, sturdy wooden surfaces, or even resin-coated driveways and walkways, we are available to serve you at a time convenient to you. We will deliver the highest quality service through best practice methods that will far exceed your expectations. 
Our goal is to leave your surfaces as good as the day they were installed. Using commercial flat surface cleaners for a specialized finish, we specialize in cleaning and restoring driveways, patios, and driveways to an almost new look, revealing the original color of pavement and concrete. We also clean decks, patio furniture, garage doors, statues, fences, and swimming pools. If you have it, we can clean it!
How will Patio Cleaning Services in Cumming Ga transform my Patios And Walkways?
We clean the surface of each paver or walkway section and remove the weeds between the joints. Depending on the paver style, t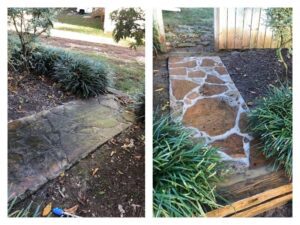 his may require some work post-cleaning work to  re-sand joints in preparation for sealing the surface. The combination of the correct cleaning methods along with the correct cleaning solution(s) will improve the appearance and help to suppress weed growth.
We are proud to offer a high-quality exterior cleaning services using specialized cleaning equipment that will return your driveway, patio, and walls to their original condition and at a competitive price for both residential and commercial owners. All Jay Squared personnel are fully trained on the latest high-pressure surface cleaning equipment, processes, and systems to ensure your satisfaction.
We Clean Patios the Right Way
An outdoor living area in Georgia, such as a patio, can add substantial value and enjoyment to your home. This is only true if you maintain your patio by keeping it clean and attractive. A dirty, grimy, algae-coated patio
is hardly appealing for private relaxation or entertaining. It can also be dangerous when wet and lead to slips and falls.
Luckily, it's easy to get the professional patio cleaning services you need to make your patio beautiful again. We provide patio cleaning services in Cumming GA, as we specialize in cleaning any exterior concrete or stacked stone surfaces such as stone benches, planters or retaining walls you may have around your patio.
Using the correct equipment and cleaning methods along with the proper cleaning solution(s) will keep your surfaces clean and dirt free longer. This save you money in the long run as fewer cleanings will be necessary. Don't just take it from us – here is a great article from our friends over at InstallItDirect who help with some tips on maintaining your patio and pavers. There is also some helpful advice on how to clean and provide drainage for your patio to protect your investment – follow their link here to learn more: https://www.installitdirect.com/learn/increase-paver-lifespan/ Robert Cline
Homeowner
Positive: Quality, Responsiveness Jay washed my home, driveway, retaining wall as well as two decks and my patios and walkways. The results were great! I've asked Jay to call me after pollen season to help keep the property looking its best.