What are some benefits of Drone Services ?
Inspection capabilities – the ability to view issues from a Distance or Close Up !
Drone technology has actually been around for many years. The first unmanned aerial vehicles was created by Nikola Tesla in the early 1900's. The origin of Commercial drones traces to Otto Lilienthal in 1891. (for more info and attribution, visit
this article
 )
Drone Services provide us with an "eye in the sky" for examining roof structures.

These includes shingles, flashing and signs of underlayment issues. Inspecting your roof is smart – it protects one of your biggest life investments ! Inspections can expose issues that can cause a lot of damage down the road. Performing routine roof inspections can avoid costly issues saving you money. 
With today's technology, there is no reason to have a potential problem go undetected. Hail storms, improper paint coverage, rotting woodwork and full gutters. These are prime examples of what can lead to water penetration with a roof. 
Annual inspections allow you to view issues subjecting your home to water intrusion. Preventing water intrusion is the main purpose of your home's roof. Anything that causes water to pool on a roof subjects your homes "exterior envelope". Water intrusion can lead to damage if unchecked. 
By monitoring issues that affect your roof you can reduce the chance of exposure. Drone Services technology can also help document changes in the lifespan of your roof. This can lead to significant cost savings by extending the value of what you've already paid for. 
A standard 3-tab shingle lasts approximately 20 years. Architectural shingles can last upwards of 25 to 30 years. Please visit https://www.howtolookatahouse.com/Blog/Entries/2018/8/what-is-the-average-lifespan-of-a-regular-3-tab-shingle-roof.html for additional information. Replacing roof shingles costs on average $7,211. (Citation – https://homeguide.com/costs/roof-replacement-cost ) This is for a 2,000 square foot roof. A roof is also a major component used in determination of the value of your home.
As intelligent humans, we inspect most everything else in our lives – why should your roof be any different ? Some of the conditions of roof exposure include;
Damage from hail which can leave impressions in the shingles causes tears and rips.
Strong Winds which can cause the shingles to lift, fold and become detached.
The Suns Rays that can weaken the protective capabilities of the shingle composition
UV light which decomposes the protective layers of the shingles
and Last but not least – Acid Rain that breaks down, rots and causes the shingles to become brittle over time.
As part of our annual contract, we'll inspect, and document, areas of your roof that need attention. We also inspect for the existance of Gloeocapsa Magma, which is a bacteria that eats shingles. ( This is also known as ugly black streaks on your roof. It actually feeds on the lime in your shingles. (refer to this article for more information )
By understanding roof issues that need attention, you will save money in the long run. Is this your last home ? Are considering reselling ? If so, a roof is one of the most cost effective ways to increase the value of your home. By maintaining your roof, you keep its value protecting your home's internal structures. Roof leaks are one of the primary write ups in a home inspection report. Why subject your home to damage and rob your investment of its value ?
Safety Concerns – eliminated with Drone Services!
Let's face it with no ladders, there's no danger and safety concerns are eliminated. I clean roofs for a living. I'm comfortable on a ladder, but staying on the ground is my first choice ! Not to mention, we can only remember so much. By flying a drone over your roof you can take very high definition pictures at a close distance. You can send the report to roofing contractors, insurance adjusters for interpretation.
Drones can photograph almost anywhere to document roof issues. Along with shingles, they have the ability to view rotten trim, fascia boards and flashing. How valuable is this around your chimney ? Being able to see the siding, and chimney cricket where issues are harder to reach ! Not to mention, they can see if, and where, your gutters are full. By pinpointing the areas of concern, you can save time and money by not moving a ladder around your roof line.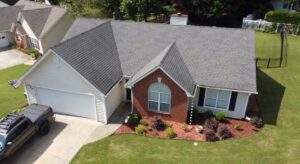 Unclogging your gutters prevents gutter overflow. During a storm water can flow behind the gutter, along the fascia and enter your home if there are gaps. Water flowing along the fascia behind the gutter can penetrate gaps. This water penetration causes swelling and shrinkage of the wooden trim. The movement causes the wood to crack and rot leading to high replacement costs.
By walking on your roof to inspect, you run the risk of removing the asphalt shingle granules. These granules exist to protect the shingles from the UV rays of the sun. The loss of granules and shingle layer deterioration shortens shingle life. Gloeocapsa Magma (black streaks) eats away at the lime in your shingle composition. This deterioration can cause a 25 year shingle life to reduce to 15 years in some cases !