Why use Commercial Pressure Washing Services to clean dirt and grime from your building?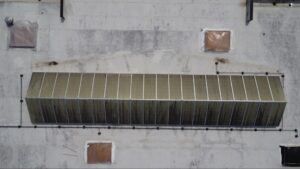 The bottom line is – it will make it look more attractive to potential tenants and customers. By having a clean exterior, it tells a story about your company. A clean image shows that; You are on top of things and successful, you can weather the storm and still come out top. A clean exterior is one of the first things people notice when they visit a business.
If your building looks dirty, it might give off the impression that the business isn't well taken care of. This could lead to customers not wanting to enter your store or office. If the business doesn't appear attended to – will their treatment be the same? A fresh looking appearance presents you in a light that says you are on top of things and current.
Present a trustworthy message and tell your customers they are in the right place! You wouldn't hang out in a dirty place, why would you choose to do business in one? A clean exterior makes people feel better about entering your office or store. It's all about perception and perception is reality. To keep your business looking its best, take care of the exterior of your building by hiring commercial services to help you maintain it.
What are some of the issues specific to Commercial Pressure Washing?
Commercial Services are paramount for high traffic areas, grease stains, and common areas to prevent accidents and present your company in the best light possible.Danger of slips and falls on dirty slippery when wet surfaces exposes your business to lawsuits. Reputation issues from an unkept property image can hurt business. Some of the issues we see when working with commercial properties;
Dumpster pads – can be smelly and present your business in a bad light. If that's how you maintain your property, what other things are you sloppy with?
Roofs – unsightly black stains and mold making your property look old and outdated
Parking Lots – curbstones and parking blocks covered in black lichen which can be difficult to remove
Sidewalks – green and black organics can make for a very slippery surface when wet
Store Fronts – grime and dirt make the outside appear outdated and doesn't reflect an efficient, current business
Graffiti removal – evidence of vandalism on the property doesn't give the impression of being safe for customers
Drive Through areas – oil, grease and tire marks make your property appear old and rundown
Awnings – mold and algae tend to grow in dark areas which invite insects and leave the area feeling dingy
Tennis Courts – mold, algae and mildew can cause accidents when wet
Retaining walls – mold, mildew and moss make an uninviting eyesore
Common Areas – need to be kept clean for company functions and spaces for coworkers to enjoy and maintain their safety
Dirty grimy spaces appear old and out of touch, desperate.  A fresh looking appearance presents you in a light that says you are on top of things and current. This presents a trustworthy message that says your customers are in the right place dealing with the right company. You wouldn't hang out in a dirty place, why would you choose to do business in one? It's all about perception  and perception is reality.
As with any structure, by not maintaining your property with regular exterior cleaning and maintenance you risk exposing the structure to damage. By letting dirt and grime accumulate it not only gives you a bad image and can be costly! We're fully licensed and insured and can present certificate of insurance on demand.
A Clean Exterior Helps Prevent Mold Growth
Mold is one of the most common indoor contaminants. Mold is everywhere and looking for a place to live! It begins growing when there is moisture present and can cause serious health issues. Mold algae and fungus accumulate and act as a sponge. This provides a perfect moisture source for their growth. The moisture used by mold and fungi will find its way from outside surfaces to inside structures. Check out my article under "Cleaning The Dirt From Every Corner Of Your Home" where I discuss how mold forms and the effect it has on structures.
If you notice any signs of mold, you should contact a professional immediately.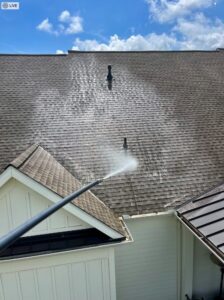 There are several ways to remove mold from surfaces. One method involves using a pressure washer. Pressure cleaning equipment uses high-pressure water to blast away dirt and debris. Soft washing is another method to remove contaminants. Depending on the surface cleaned, one or more of these approaches is appropriate. Use a pressure washing service to clean exterior surfaces and saves you time and money. By letting a professional handles the details, you're ensured it's done right and will last.
High Traffic Areas
Roofs
Parking Lots
Sidewalks
Store Fronts
Fences
Handicap Ramps
Graffiti Removal
Drive-through areas
High Traffic Areas
Awnings
Tennis Courts
Swimming Pool Aprons and Areas
Patio Areas
Entrance Ways
Signs
Mail Kiosks
Retaining Walls
Common Areas
And more…
A clean exterior will help keep your building and premises safer from weather damage. It also reduces the possibility of personal injury from slick surfaces.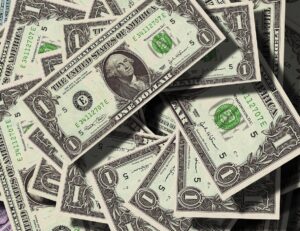 Hire a professional commercial  services to do the best job. You can find a local company by searching online or through word of mouth from other businesses. Maintain your property with regular exterior cleaning and maintenance. Don't risk exposing the structure to damage. It is more expensive in the long run. By letting dirt and grime accumulate it not only gives you a bad image but can be up to 10 times more costly for repairs!
Compared to the downtime for repairs, maintenance takes no time. We all know that a bad image is immeasurable. What happens when there is a slip or fall because of slippery surfaces? Why take the chance on something so simple to address?
Hiring a licensed and insured company will protect your investment. Jay Squared Pressure Washing is well versed and trained in the best way to clean your property. We have the experience. We have the equipment, know-how and expertise.
Preventing unnecessary damage will save you time and money. This frees you up to do what you do best – run your business!